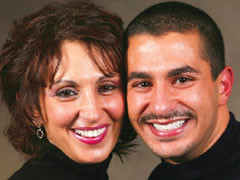 Layla & Waseem Shaheen
Actual Patients of Dr. Samaha
Hampton Roads Cosmetic Dental Excellence
As human beings, we are focused on the visual perspective of beauty. Why? Simply because beauty arouses within us feelings of happiness, bliss, security and trust. And dentistry's aesthetic eye—the concept of visual beauty—is developed via extensive training, experience, and expertise all found at Port Warwick Dental Arts. If you have ever dreamed of a brighter, more beautiful smile, chances are there are a myriad of cosmetic dental procedures available for you at Port Warwick Dental Arts.
You Can Have A Beautiful Smile!
One's smile can be disfigured by a number of issues, such as early-childhood illnesses, medications, decay, accidents or discrepancies in tooth position. Stains on teeth can be caused by coffee, tea, soft drinks and juices, tobacco and medications. Cosmetic dentistry can literally transform a smile by offering a variety of solutions to such commonly occurring dental concerns.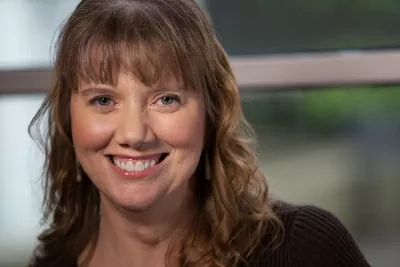 Erika Chesson
Actual Patient of Dr. Samaha
In recent years, the development of tooth-colored dental plastics (composite resins) has enabled cosmetic dentists to correct the color and shape of teeth simply and effectively. The application of composite resins to the teeth (a procedure called "bonding") is not, however, the only method dentists use to restore damaged, disfigured, crooked or discolored teeth. And thanks to a wide variety of recent advances in cosmetic dentistry, nearly everyone can have a "picture-perfect" smile, courtesy of the 30 years of extensive experience by Dr. Lisa Marie Samaha at Port Warwick Dental Arts.
Cosmetic Dental Procedures
At Port Warwick Dental Arts in Newport News, Virginia, we offer many cosmetic dental procedures to help create the smile you deserve. For example, professional teeth whitening can help your smile sparkle by removing stains and discolorations and custom porcelain veneers can hide gaps and misshapen teeth.
Each person's situation is different. If you want to dramatically improve your smile and think cosmetic dentistry may be right for you, come talk with our experienced Newport News cosmetic dentist who is also an award-winning professional artist. Dr. Lisa Marie Samaha of Port Warwick Dental Arts in Hampton Roads will guide you in choosing a plan specific to your needs and desires. Call our Hampton, Virginia area cosmetic dental office today to learn more about cosmetic dentistry or fill out the form on the right of this page for a cosmetic dental consultation.