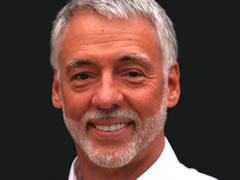 Chuck Frechette
Actual Patient of Dr. Samaha
Newport News
Dental Veneers
Who can resist a beautiful or good-looking smile? Does your smile make you smile? Perhaps not, because you have chipped, cracked, crooked, or discolored teeth that still aren't bright after teeth whitening, or you have gaps between your teeth? Do you wish for the smile of your dreams but aren't sure how to get one?
At Port Warwick Dental Arts, we strive to convey your inner essence and beauty by creating and rejuvenating your smile. If you want a smile that goes from average or disappointing to awesome, dental veneers can help might be the perfect answer!
What is a Porcelain
Veneer

?

To craft brilliant customized smile designs, Dr. Samaha uses ultra-thin and conservative porcelain veneers to quickly reshape teeth, close spaces, correct alignment, 
and permanently brighten your smile. A porcelain veneer is a thin layer of porcelain or ceramic that is fabricated and bonded to the outside surface of the tooth in order to improve the tooth's appearance.

Using highly-credentialed master lab technicians, Dr. Samaha's porcelain veneers mimic tooth enamel in beauty, reflecting light and successfully mimicking the stunning characteristics of natural enamel. With proper care, each porcelain veneer can last many years and is more resistant to staining, wear and fracture than the alternative of composite bonding, also offered by Dr. Samaha.
Benefits of Porcelain Veneers
Our patients love porcelain dental veneers for a variety of reasons. Some of the most common include:
Durability | Porcelain veneers are extremely durable, lasting an average of 10 to 15 years if taken care of properly.
Appearance | Veneers can drastically improve the appearance of teeth that have deficiencies in alignment, shape, color. They have a vibrant yet naturally white appearance and are stain resistant.
No Recovery Needed | Once the veneers have been placed, patients can leave our practice and return to their normal, everyday activities without worry.
Get Started With Dental Veneers
View examples of Dr. Samaha's stunning work with actual porcelain veneer patients in our Before & After Gallery.
If you dream of a brighter, stronger, winning smile, porcelain veneers may be the answer. Please come in to our Newport News, Virginia office and discuss your cosmetic dentistry options with Dr. Samaha and our extraordinary team.