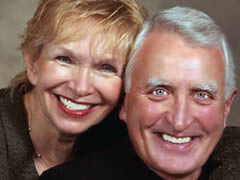 Dave & Jan Ledbetter
Actual Patients of Dr. Samaha
Restorative dentistry refers to the art and science of restoring damaged, decayed or missing teeth to their intended beauty and function. At Port Warwick Dental Arts in Newport News, Virginia, Dr. Lisa Marie Samaha uses her artistic eye and restorative dentistry skills, training and knowledge to bring about amazing results.
Some of the restorative dentistry procedures used by Dr. Samaha are:
All Porcelain Inlays, Onlays, and Dental Crowns
Dental inlays are solid fillings used to fill large areas left by a cavity or by removing a (soft) filling. They are pre-made and must be cemented into the damaged tooth by a dentist. Onlays are also solid but sit on the top of the tooth to build up its shape. A dental crown fits over the entire damaged tooth as a protective, yet functional, cap.
At Port Warwick Dental Arts, we offer two options for tooth-colored repair of decayed or fractured tooth structure. Composite resin and porcelain (or ceramic) can be used to restore back teeth and are safe, more aesthetic options compared to traditional mercury-silver fillings. In most offices, porcelain restorations are sent to an outside dental laboratory, requiring two appointments or more, weeks apart.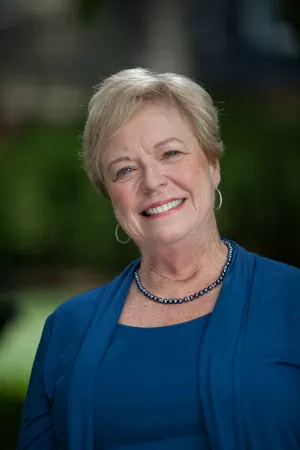 Suzie Wornom
Actual Patient of Dr. Samaha
However, in early 2002, Port Warwick Dental Arts invested in the highly advanced CAD/CAM technology known as CEREC 3D and we are able to design and fabricate inlays, onlays and crowns "in office", typically within one hour. Since then, we have performed thousands of CEREC porcelain restorations successfully.
We are able to complete the entire process (through cementation) in a single visit. First, the tooth is prepared and within minutes, an optical image is taken. This means there are no messy impressions and no temporary crowns.
Porcelain/ceramic onlays, inlays or dental crowns are stronger than composite resin fillings and are the safe and more aesthetic alternative to silver or black mercury-silver fillings. Because of their strength and biocompatibility, at Port Warwick Dental Arts, porcelain is the preferred alternative for moderate to very large fillings.
Composite resin (tooth-colored) fillings
At Port Warwick Dental Arts, we have never placed mercury-silver fillings. Esthetically superior and safe, composite resins are a very suitable and commonly accepted alternative to traditional silver fillings. We provide only BPA-free composite resin fillings.
Dental Bridge
A dental bridge is utilized when teeth are missing and dental implants are not a suitable alternative. Conventional bridges and bonded bridges are the two most common kinds. Both types of dental bridges require that the adjoining teeth be healthy and have adequate gum and bone support. Once cemented in place, dental bridges function much like natural teeth.
For a conventional dental bridge, one or more artificial teeth are fused to dental crowns that will be cemented over adjoining natural teeth (the natural teeth must be reduced/reshaped to receive the crowns). A minimum of two appointments are required.
For a bonded dental bridge, an artificial tooth is fastened to metal or ceramic "wings". The wings are then bonded to the teeth adjacent to the space, forming a bridge. Unlike a conventional dental bridge, minimal tooth preparation is required, but the natural teeth that support the bridge must be cavity-free or have very small fillings. A minimum of two appointments are required. This is the most conservative and least costly cemented type of dental bridge, and is always the recommended treatment when possible.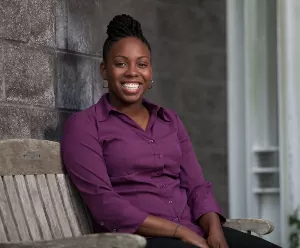 Carita Jester
Actual Patient of Dr. Samaha
When finances are an issue, we offer a quick and easy alternative replacement for a tooth which requires no preparation. This replacement is referred to as a "hugger" or a "snap-on" dental bridge. A composite resin dental bridge is created that will clasp on to the adjacent teeth. These can then be bonded into place without having to remove any enamel from the adjoining teeth. "Snap-on" dental bridges can also be used as temporary solutions during the osseointegration period following the placement of dental implants.
Hugger Bridge: A quick, easy, and truly non-invasive method for replacing a missing tooth or teeth. The hugger bridge gently snaps into place and is removed for ease of cleaning.
Flexible Removable Dentures: Easy to wear, lightweight, and conservative, non-invasive replacement teeth that gently snap in place.
Dental Implants
Dental implants are replacements for natural teeth that are gently placed within the jaw, with ceramic teeth replacements cemented to them. They look and feel just like natural teeth, and are a proven, effective and attractive alternative to dental bridges and dentures for replacing teeth that have become lost or damaged beyond repair. Patients with missing teeth are excellent candidates for dental implants.
Schedule a Consultation for a Restorative Dentistry Procedure in Newport News
If you have damaged or missing teeth, cosmetic and restorative dentistry can not only restore the function that natural teeth provide, but can also restore a beautiful smile. Call our Hampton area cosmetic and restorative dentistry office today or fill out the form at the right of the page.