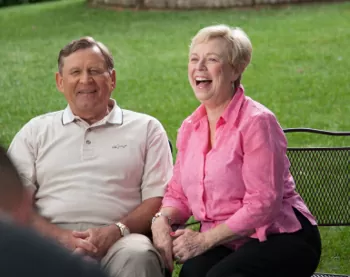 Actual Patients of Dr. Samaha
Charles and Suzie Wornom
Implant Dentistry

Near Hampton, Virginia

Always thinking of how best to restore your health and well-being at PWDA

PWDA has, once again, invested heavily in new state-of-the-art technology for our patients!

With our state-of-the-art, low-exposure 3D CT scanning technology, we are able to offer safe, thorough evaluation and planning for dental implants for those with missing teeth.

Do you have a tooth or teeth missing? Are you reluctant to go out with friends or get your photo taken? Are you embarrassed to dine with others, and do you have to restrict the foods you eat?

If so, you may benefit from dental implants. Dental implants are a revolutionary procedure that can not only give you your smile back, but may even change your life. Dental implants give you a "new" tooth root and crown, which completes your smile and gives you the confidence to smile, laugh, chew, and be around people again!

Dental implants are artificial tooth supports which are used to replace any number of missing teeth in combination with dental crowns, dental bridges or dentures. Adults who have healthy gums and adequate bone to support a dental implant are candidates for implant dentistry. Even those who don't have adequate bone to support dental implants can become good candidates for dental implants through a variety of reconstructive procedures offered at Port Warwick Dental Arts.
Healing Time After Receiving A
Tooth Implant
In the past, months of healing time was required after receiving dental implants, but advancements in dental implant technology have reduced healing time from months to weeks. And in many cases, dental implants can be completely restored immediately.
Learn More About Dental Implants in Newport News
Dental implant patients have their smile restored in a way that not only looks great but also feels natural. Learn more about dental implants with an evaluation with Dr. Lisa Marie Samaha. Contact our Newport News implant dentistry office today or fill out the form on this page. Dr. Samaha is experienced in implant dentistry and is happy to discuss dental implant procedures and determine if dental implants are a solution for your situation.