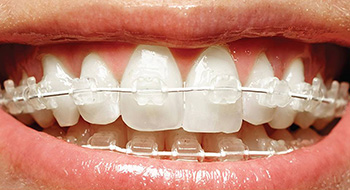 Have you ever wanted a straight, beautiful smile but were concerned about some of the issues associated with traditional metal braces?
Traditional metal braces can be painful, unattractive and seem to take a long time to give you the smile you want. For many years, traditional braces were all that was offered. Now, there is a new and quicker orthodontics treatment, for teens through elders! It's called Six Month Smiles®!
What is Six Months Smiles?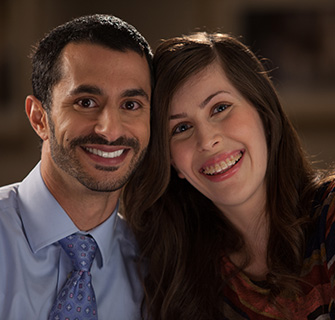 Jiji and Waseem Sheheen
Actual Patients of Dr. Samaha
Six Months Smiles uses a system that is far less noticeable, far less painful and far less time-consuming than traditional metal braces.
Six Months Smiles uses clear plastic brackets on your teeth. These plastic brackets do not cut or scar your gums and the inside of your mouth like traditional metal braces. The plastic brackets are barely noticeable and usually aren't seen at all in photos.
Six Months Smiles has a tooth-colored wire that fits into the brackets. This wire is also barely noticeable, so Six Months Smiles braces are nearly invisible!
The tooth-colored wire uses a system of pressure, slight but consistent, gradual and progressive, to straighten your

teeth

. Though you may feel slight discomfort, it is nothing like what traditional metal braces wearers describe. There is no jerking, painful wire tightening that can sometimes hurt for days.
Just like the name says, Six Months Smiles usually takes about six months to give you a straight, beautiful smile.
Six Months Smiles focuses on the teeth you see in your smile, which is why it's the perfect

orthodontic treatment

for late teens and adults who would like a gorgeous smile in a short period of time.
Get Straight Teeth in Newport News with Six Month Smiles!
Six Months Smiles is an accelerated orthodontic treatment created specifically for late teens and adults and isn't appropriate for all types of orthodontic issues. However, Dr. Samaha is happy to discuss all the possibilities with you. She and her caring, well-trained team are committed to giving you the loveliest, healthiest smile possible. Call today!
Not Sure About Six Month Smiles? Ask Us About Invisalign Clear Aligners at Port Warwick Dental Arts!
For the truly invisible braces, we are able to offer you the best known and most advanced clear tray braces in dentistry—Invisalign clear braces. No brackets or wires with this method! Contact us for an orthodontic evaluation, so we can help you choose the best method for you!