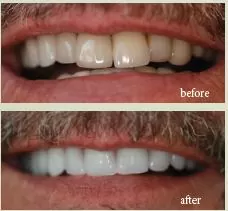 A beautiful smile can make all the difference in the world when it comes to your perceived attractiveness, your attitude, your con­fidence and even the overall youthfulness of your face. And while enamel (the translucent outer layer of your teeth) is the hardest sub­stance in the human body, teeth are still relatively fragile, especial­ly with all the stresses and strains we put them through. Once the enamel is decayed or cracked, it may be only a matter of time before extensive dental care is needed.
Dr. Lisa Marie Samaha from Port Warwick Dental Arts wants you to know that even if you don't have a vibrant smile now, you can easi­ly have one more simply and in less time than you think, thanks to such technological marvels as porcelain veneers, crowns, and dental implants.
PORCELAIN VENEERS: A veneer is a very thin slip of porcelain requiring minimal to no preparation of tooth structure, due to new techniques provided at Port Warwick Dental Arts. In the past, veneers required aggressive tooth reduction. Not anymore, with the quality skill provided by the master lab technicians with whom Dr. Samaha works. Veneers enhance the color, shape and overall aesthetics of a tooth or teeth. Porcelain veneers can also fill in gaps between teeth, brighten discolored teeth and strengthen a tooth weakened by decay, cracks or inherent enamel defects.
PORCELAIN CROWNS: A crown is a tooth-colored shell of porcelain that is placed over the top of cracked or severely damaged teeth, restoring the strength and beauty of the tooth to near 100% of its original integrity. Crowns protect teeth from splitting, causing painful nerve exposure and/or even the need for extraction. In the past, crown procedures would always include two or three visits to the dentist, who would first take a mold of the prepared tooth and send it off to a dental lab, often taking weeks to be completed. While the new "tooth" is being manufactured, a temporary crown is worn over the tooth. Inconvenient and often uncomfortable, this procedure has been almost completely replaced at Port Warwick Dental Arts. Dr. Samaha offers strikingly beautiful, one-hour porcelain crowns that she designs and mills herself, on high-tech Cerec cad-cam technology. One visit, one hour. Sounds great!
DENTAL IMPLANTS: A dental implant is a small post that is gently placed in the jaw in a matter of minutes, in order to replace a missing tooth. The post is then cov­ered with a crown to make it look, act and feel like a nat­ural tooth.
"If you are missing a tooth, an implant may be the pre­ferred option for tooth replacement," says Dr. Samaha. "An implant feels and functions like your own tooth and is cleaned just like a natural tooth. Implants are quickly becoming standard care for the replacement of a miss­ing tooth."
If you're embarrassed about your teeth, or if you're ex­periencing gum, tooth or jaw pain because of cracked or missing teeth, let Dr. Samaha and her team put a daz­zling smile back on your face. You'll be amazed at how quickly most procedures can be done and even more as­tonished by how a few small changes can improve your overall appearance.