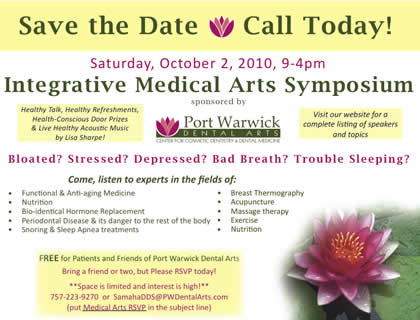 Bloated? Stressed? Depressed? Bad Breath? Trouble Sleeping?
Come Join us for the
Integrative Medical Arts Symposium
Saturday, October 2, 2010, 9-4pm
Listen to experts in the fields of:
Functional & Anti-aging Medicine
Nutrition
Bio-identical Hormone Replacement
Periodontal Disease & its danger to the rest of the body
Snoring & Sleep Apnea treatments
Breast Thermography
Acupuncture
Massage therapy
Exercise
Nutrition
Download the flyer. We'll be posting a complete listing of speakers and topics soon.
FREE for Patients & Friends of Port Warwick Dental Arts
Bring a friend or two, but Please RSVP today!
**Space is limited and interest is high!**
Call 757-223-9270 or Online
(put Medical Arts RSVP in the subject line)
Healthy Talk, Healthy Refreshments, Health-Conscious Door Prizes & Live Healthy Acoustic Music by Lisa Sharpe!