(Hampton Roads, Va.) In only three months, Dr. Lisa Marie Samaha and her team at Port Warwick Dental Arts (PWDA) raised $12,000 for Children's Hospital of The King's Daughters (CHKD). The Hampton Roads community supported the cause by seeking professional tooth whitening at Port Warwick Dental Arts last March through May. One hundred percent of the proceeds for these services were donated to CHKD and the Smiles for Life Foundation.
PWDA wishes to thank Hampton Roads residents for allowing Dr. Samaha and her staff to brighten smiles and, in so doing, brighten the lives of sick children in our local community and across the country, who don't always have a lot of reasons to smile.
To cap off their fundraising campaign, Port Warwick Dental Arts will host an Open House fundraiser filled with music, art, door prizes, food and wine. The event will be held at Port Warwick Dental Arts on Thursday, October 15, from 6 to 9 p.m. This event is open to all Hampton Roads residents. A $10 donation will be accepted at the door, with all funds raised benefiting services and programs at CHKD. RSVP: 757-223-9270 or Scheduling@PWDentalArts.com.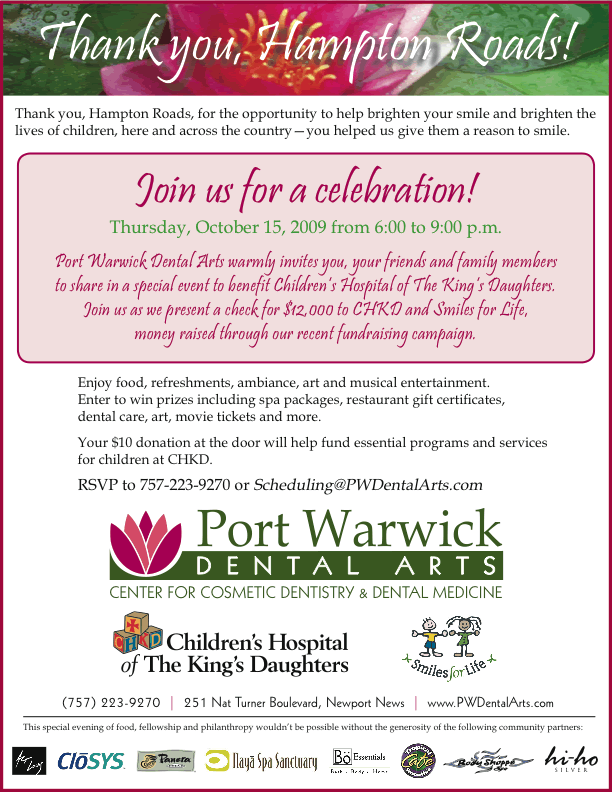 About Port Warwick Dental Arts
Located in Newport News, Virginia, and serving patients throughout Hampton Roads, as well as across the country and around the globe, Port Warwick Dental Arts utilizes a variety of remarkable technologies and treatments to enhance patients' dental experience and fulfill their vision for a beautiful, healthy smile.
As an artist and a dentist, founder Dr. Lisa Marie Samaha possesses a heightened ability for creating beautiful and healthy smiles in a variety of ways. Years of expertise and advanced studies in the field of periodontology have given Dr. Samaha the expertise to develop a highly sophisticated and successful non-surgical program for the treatment of periodontal disease, highlighting nutrition, specialized testing and state-of-the-art laser therapy. In addition, she provides a wide range of esthetic, reconstructive, surgical and comprehensive dental care.
Dr. Lisa Marie Samaha's commitment to her patients and her pursuit of excellence in her own private practice and as a professional artist have earned her a national reputation in the Art of Fine Dentistry. This commitment is clearly reflected in the compassionate care so generously offered at Port Warwick Dental Arts, and needless to say, in thousands of beautiful smiles.
About The Smiles for Life Foundation
The Smiles for Life Foundation is the children's charity organization of the Crown Council, a leading-edge group of highly trained dentists. Crown Council dentists participating in the Smiles for Life campaign offer professional teeth whitening services at a considerably reduced price and then donate 100% of the cost to Smiles for Life to help children facing serious health conditions and educational deficiencies. Since 1998, the Crown Council's Smiles for Life Foundation has raised over $25 million, benefiting hundreds of children's charities across North America and the world.