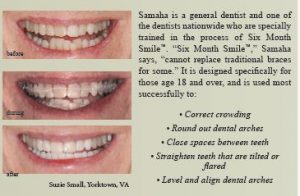 Adults, no need to worry about sporting that teen metal-mouth look for years. With Six Month Smile™, Dr. Lisa Marie Samaha of Port Warwick Dental Arts in Newport News is able to straighten your teeth in a matter of months, with nearly invisible braces. "You'll be done in three to nine months with most patients finishing treatment in six months," she says.
For adults whose bite and jaws don't need to be re-aligned, Six Month Smiles™ is a great option for fast track results – and a more appealing smile before your next dental checkup. Six Month Smiles®, using special tooth-colored nickel titanium wires and clear brackets, features a conservative treatment designed to safely and gently straighten your teeth– primarily those that show when you smile, Samaha says. The focus is on those who desire cosmetic improvement, as opposed to a major jaw and bite realignment, she clarifies.
Good news: "Teeth are rarely extracted, there's little trauma to the mouth, and minimal, if any discomfort. This is because Six Month Smile™ uses light forces over a short period of time." More good news: the Six Month Smile™ method is typically less costly than other types of orthodontics. And even more good news: because the clear braces are bonded to your teeth, your compliance, and therefore, your success, is automatic, unlike the "clear align" or "invisalign" removable orthodontic trays which are totally dependent upon you wearing them almost 24/7, for up to 2 years.
"Dentists who have used the 'clear align' method in the past are particularly attracted to Six Month Smile™ because the doctor has more control in moving the teeth and also because of the fine detail that can be achieved with the Six Month Smile™ method," she says. "You can see a need and adjust for it immediately. With clear aligners, it's sometimes challenging to predict treatment time and the fine tuning is often unable to be accomplished as carefully and efficiently as with Six Month Smile®."
Samaha says, "Oftentimes, people look at investing in porcelain veneers in order to have straighter smiles." As a cosmetically trained dentist, Samaha has been creating beautiful smiles with porcelain veneers since 1982. "Although I still use porcelain veneers frequently, Six Month Smile™ are one-fifth to one-third the cost of using porcelain veneers to straighten teeth, and require minimal, if any reduction of tooth structure. With Six Month Smiles® being typically less expensive than traditional orthodontic methods, the concept is a win-win," Samaha says.
After your treatment is complete, you'll wear a retainer to help keep your teeth in place. The retainer can be removable, or conservatively bonded to the inside of your teeth where it cannot be seen. Most prefer the bonded style.
At Port Warwick Dental Arts, where healthy, great looking smiles are created every day, results extend beyond straighter teeth. As an added bonus for those who think braces are only equated with vanity, straighter teeth mean a healthier mouth. "Crooked teeth can cause periodontal swelling and inflammation because the gum tissue is crowded out," Samaha says, "and because it's difficult to properly clean teeth when they are overlapping."
So, not only do Six Month Smile™ allow an adult to enjoy a healthy, more youthful smile, they also help to resolve and prevent the periodontal problems encouraged by crowded teeth.
Hands down, Six Month Smile™ can be the perfect "quick-turn-around" option for a straighter, healthier and more attractive smile.